🍂💛 BLACK FRIDAY SALE 💛🍂
TRACKED EXPRESS 2-5 DAY US SHIPPING! 🚚
Join over 200,000+ happy customers and get a free instructional Peticure book with your order! (Over a $45+ value!) 🎁 
Let's all save money and keep our furbabies healthy! Select "Buy 2" for the best gift savings! 💝
THANK YOU for supporting our small business! 🙏
Exclusively Sold By PetCrate™ & Featured On

The #1 Vet Recommended Nail Trimmer in the World
👉 According to expert advice & veterinarians, trimming your dog and cat's nails is more than just a cosmetic chore. Unhealthy nails can cause pain and trigger irreversible damage to your pet. 🚫
Most, if not all "quiet" nail grinders are not strong enough, which is why we have a life-changing solution for you. ❤️
👉 If you are looking to prevent foot and leg damage to your pet, while saving money and staying in the comfort of your own home, then Peticure™ is perfect for you.
Seriously, after two uses you will have already saved money! 😲
Peticure™ is a powerful stress-free, at-home nail trimming solution for all pet owners, saving you time and money with over 215,000+ happy customers! 🐶 Use effortlessly on all pets: Dogs, cats (cat claw removal), birds, hamsters, guinea pigs and more!
💸 A simple dog nail trim may cost between $20 and $30, depending on your location. Nail grinding may cost an additional $2-$8 than standard clipping. Stay home and save money after two uses with Peticure 
Treat your best furriends to a stress-free, luxurious dog pedicure with The PetCrate Peticure 🐶
Rico the Pug getting his nails trimmed! 🐾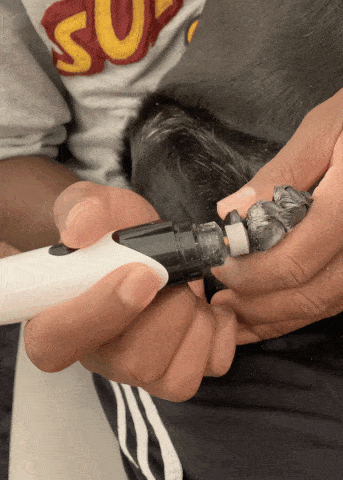 Why Do You and Your Furry Friend Need Peticure™? 👈
✅ Safe & Precise Trimming - Peticure™ uses an advanced emery diamond-bit grinder (7000 RPMs and quieter than 50 decibels) to deliver the safest, most comfortable pet nail grinding. Recommended by veterinarians and pet grooming professionals, painlessly and precisely trim your pet's nails anywhere. ✨
✅ Save Money - Spending your hard-earned money on frequent groomer visits? Our advanced technology will help you trim your dog's nails efficiently, wherever and whenever. 💸
✅Stay Home - Right now, none of us want to leave the house or spend extra money that's not needed. All it takes is once a week for upkeep! 🏡
✅ Perfect For Anxious Pets - Many pets get stressed by the sound and vibration of most nail grinders and clippers. Peticure™ uses a superior motor with whisper-quiet technology that produces a very low vibration to keep your pet calm by trimming their nails faster and easier.
✅ Use For All Pets - Can be used on all pets who need their nails trimmed. 😻
✅ Builds Trust With Your Furry Friend - Once you show them nail trimming doesn't hurt when using our Peticure, it will strengthen your bond; Building inseparable trust between the both of you. 💙
✅ Rechargeable & Portable -This stainless steel design uses a rechargeable port that lasts two hours.  We recommend charging after each use! The lightweight and ergonomic body design also makes it easy to handle. 🔋
✅ Premium Support -  Fast shipping from our warehouse in Los Angeles, and a 30-day money-back guarantee. 🤝
Have A Medium to Large-Sized Pet With Thicker Nails?
81% of our customers checkout with our newly released premium nail trimmer. . This features our whisper-quiet motor and a white-fused alumina diamond-bit trimming head that reduces heat transfer. This is purrfect for pet owners who want the option of having an "extra kick" of power. 🐾
"But My Pet Might Be Scared Of It!"

❤️ No need to worry! All pets react differently and are special in their own way.  We will make sure to walk you through each and every step to provide you and your furbabies with a smooth experience.
The Best Nail Trimmer - Paws Down
"Why Can't I Just Use A Dremel?"
⚠️ Commercial dremels/grinders are loud, which can traumatize your furry friend.

✅ With Peticure™ whisper-quiet motor, your dog will be able to relax.
Benefits & Results With Peticure™ ⭐️
Shorter Nails Make Walking More Comfortable
Save Money After the First Use
Trimming Reduces Injury Risks
Less Scratch Marks
Avoid Damage to Bedding, Carpet & Hardwood Floors
Good for Dogs & Cats with Clipper Anxiety
Rounded & Smooth Nails
"PetCrate is the real deal. I have gone through about four other nail trimmers/grinders and they were either too loud or too quiet and weak. Peticure feels great to hold, and gets the job done. It takes me about five minutes of upkeep per week and that's it! I use it on my frenchies and cat.  This has already saved me so much time and money too. If anyone is on the edge about this, I highly recommend this- And this is coming from someone who used to go to the groomers once a month!" -Jackie, Melbourne, VIC ⭐️⭐️⭐️⭐️⭐️
Isabella getting a nice pawdicure with Peticure! Say GOODBYE to ripped furniture! 🐾